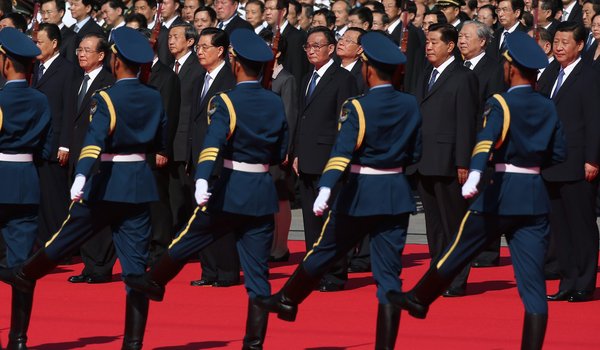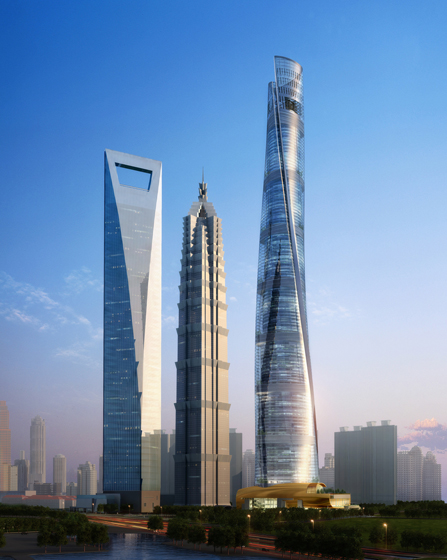 China is further proof that Republican lunatics, fraud Obama Democrats, which means the Wall Street Media/Money/Cabal, aka right-wing lying Media behind them, have been playing an Ultimate Con Job on American people.
For while Republicans lunatics & HOAX Democrats (aka Wall Street) have been saying any lunatic non-sense, such as:
"Government is the problem not the solution..."
"Government does not create Jobs..."
"Government take over of health care bad.."
they have invested Trillions of Dollars and thus moved 10s of Millions of Jobs from US to China. And what is China? China is the ULTIMATE Example of Big Government given the FACT that China is a Communist Capitalist country with Chinese Government NOT just running health care, etc. as Europeans do, on Socialized basis, but in China most Top banks, Top Energy companies, etc. are run by Chinese Government on Socialized basis. In fact as per a recent economist report 72% of Chinese companies are either totally, or via shares, run by Chinese Government.
So just think how "Deep the rabbit hole runs", how the Wall Street Media/Money/Cabal, via their agents Republican lunatics & FRAUD Democrats, have been engaged in a total Con Job on US, that they told US:

"We need to move 10s of Millions of Jobs to from US to China because things can be produced cheaper in China.."

Which is TRUE. But then they did not tell you, or used their all powerful brain washing right-wing lying Media machinery to prevent you from realizing, that the reason that "things can be produced cheaper in China..." is because Chinese get Health care, College education, etc. for VIRTUALLY FREE plus Gas, Food, etc. subsidized by the Chinese Government because all these and many other things in China are run by the Chinese Government on Socialized basis.
So the same "Socialized" services that Wall Street gang have opposed for American people, because these Socialized services would drastically cut the money they can make off your back from these services, they love these same Socialized services in China because then it allows them to make more money by having goods produced in China at lower prices due to the many Socialized services of China. This is serious EVIL. This means that Republican lunatics & HOAX Democrats (aka Wall Street gang) are screwing US in 2 fundamental ways:
1- By opposing the establishment of essential Socialized services such as Government run Universal Socialized health care (NHS) which would give health care to ALL Americans while cut health care spending by 50%, Government run College education, etc. which together would SAVE a typical American family of 4 at least $500,000 over their life time at current cost of these services.
2- By having moved 10s of Millions of Jobs to China that does have these Socialized services and many more Socialized services, so that they can make more Money in China due to China having these EXACT Socialized services that they oppose for Americans by calling it "Socialism" so that American people by the 10s of Millions would NOT even have the Job to pay for the much higher cost of these essential services
This is serious EVIL. You really have to be the TRUE ENEMY of the Nation, to have and execute both of the above 2 Policies together. Because one could say that Republicans, and their masters the Wall Street gang, on philosophical basis are against Socialized services, you know Ayan Rand crap and Atlas Shrugged BS, etc. but then one could not explain how given this philosophical bend they moves 10s of Millions of Jobs from US to China that is the ULTIMATE example of Socialism since it is actually a Communist / Capitalist country, except that this Wall Street Money/Media/Cabal that controls the Republican lunatics & fraud Obama Democrats is the TRUE ENEMY within.
Chinese Government owned companies as new Masters of the Universe
If you still do not get, or maybe you do not even clearly know, because of the lies and brain-washing of the right-wing lying Media, which is almost all of US Media, aka Wall Street owned Media, that China is a Communist Capitalist country, which means the height of Socialism/Socialist, the supposed thing that Republicans hate for US, consider the list of FACTS below to appreciate the fact that China is the most Socialist of the countries, and in spite of this, well in fact because of this, Wall Street (aka Republican lunatics & HOAX Democrats) devastated whole American States & Cities, by moving their Jobs to China.
All over central Beijing you see state companies erecting giant monuments to themselves, reflecting their huge power and their vision of themselves as agents of modernisation. The most striking thing about state-owned enterprises (SOEs) is their sheer collective might in the emerging world. True, the state-owned sector as a whole has been retreating. But this decline is the result of selective pruning rather than liberalization. Governments have been letting go of the small in order to strengthen their hold over the large. The concentration of power in an inner circle of SOEs has been gathering pace over the past decade: China's 121 biggest SOEs, for example, saw their total assets increase from $360 billion in 2002 to $2.9 trillion in 2010 (though their share of GDP has declined). And it has been given an extra boost by the 2007-08 financial crisis: in 2009 some 85% of China's $1.4 trillion in bank loans went to state companies.
Governments are becoming more sophisticated owners. Only a handful of SOEs are still reporting directly to government ministries. Most governments prefer to exercise control through their ownership of shares: they have become the most powerful shareholders across much of the developing world from China to Thailand and from Russia to Saudi Arabia. Sometimes they hold all the shares, particularly in oil companies like Malaysia's Petronas, transport firms like China's Ocean Shipping Company.
To see the above facts more clearly, consider these facts:
1- The Chinese state owns 90% of the shares in PetroChina and 80% of those in Sinopec.
2- Chinese oil companies have been striking deals across Africa: in 2006 Sinopec bought a huge Angolan oil well for $692m.
3- State capitalism also has a collection of companies that sit at the opposite end of the ownership scale from national energy companies: national champions that formally are privately owned but enjoy a huge amount of either overt or covert support from their respective governments. Sometimes such governments prefer to exercise their patronage at arm's length because they have little experience of the sector; this is often true of the IT industry in China. Sometimes they offer their patronage to a private company after it has become a winner. Either way the end result is the creation of a new class of state companies: national champions that may not be owned by governments but are nevertheless closely linked to them. China's Lenovo likes to think of itself as a private-sector computer company, but the Chinese Academy of Sciences provided it with seed money (and still owns lots of shares), and the government has repeatedly stepped in to smooth its growth, not least when it acquired IBM's personal-computer division for $1.25 billion in 2004.
4- China has built about 10,000 Kilometer of High Speed train at cost of about $1-Trillion, so that Chinese people can travel in lap of luxury from center city to center city without burning expensive and polluting Gas, since these High Speed trains are powered by electricity which China generates ever more via renewable Green energy sources such as Solar. During the same time US has WASTED $1-Trillion in the Afghan War, which Afghanistan is 10,000 Kilometer from USA while it borders China.
5- In the most recent list of the Worlds biggest contractors, Chinese companies held 4 out of 5 top positions, with China State Construction Engineering Corporation having undertaken more than 5,000 projects in 100 different countries and earned $23-Billion in revenues in 2009.
6- China's Sinohydro controls more than half the World's market for building hydro power stations.
7- Chinese Government via Chinese front companies it controls has spent in excess of $250-Billion over last decade to turn itself into a pioneer in some areas of Green energy, such as becoming the Worlds largest exporter of Solar panels. In comparison to this consider that in US Obama Admin has spent a comparatively paltry $3-Billion on Green energy, with Solyndra $0.5-Billion being one example. And Republicans are such lunatics, such TRUE ENEMY within, that they called the Obama Admins paltry $3-Billion investment on Green energy, such as Solyndra, to be a waste of Tax payer money when China is spending 100 times on this essential industry of the tomorrow and same Republican lunatics are 100% for the true waste of our Tax money which is the WASTED $1-Trillion in the Afghan War, or $2-Trillion on Iraq War, or were gunning for the Syria War and lets also state that Obama Democrats have supported all these Wars just as well as Republicans.
8- China's Geely International, which is a Chinese Government funded Auto maker, got access to some of the World's most advanced car making skills when it took over Volvo for $1.8-Bill most of which money was provided to it via Chinese Government controlled banks.
9- In October 2007 China's president, Hu Jianto, unveiled his highest priority for the future at the 17th National Congress of Communist Party in the Great Hall of the People: capacity for independent innovation.
10- In 2009 just 2 Chinese State owned companies, China Mobile & China National Petroleum Corp., made more profits ($33 Billion) than China's 500 most profitable private companies COMBINED.
11- In 2010 the top 100 Chinese State owned companies made EST net profits of $151-Billion, 50% more than the year before, in most cases helped by the near monopoly power that the Chinese Government gives them.
12- In Dec 2009 Pakistan named the Industrial & Commercial Bank of China to lead a consortium that will finance a $1.2 Billion natural Gas pipeline from Iran to Pakistan. While in the same year Obama Admin fired 100s of Drone powered missiles into Pakistan, killing 1000s of Civilians there at the cost of God knows how many Billions of Dollars to US, while China was garnering Money and good will from same Pakistan.
13- In his indispensable book, "The Party", Richard McGregor points out that the bosses of China's 50-odd leading companies all have a "red machine" sitting next to their Bloomberg terminals and family photographs that provides an instant (and encrypted) link to the Communist Party's high command.
14- The Chinese Communist Party exercises power through two institutions: the State-Owned Assets Supervision and Administration Commission (SASAC) and the Communist Party's Organisation Department. SASAC, which holds shares in the biggest companies, is the world's largest controlling shareholder and the state-capitalist institution par excellence. It has been spearheading the policy of creating national champions by consolidating and pruning its portfolio: the number of companies under its supervision has declined from 198 in 2003 to 121 today. It has also been implementing the party's policy of creating a "harmonious society" by for example regulating pay of typical Health Care exec in China to no more than $150-K Per Year while Health Care execs in US make $40-Million, $75-Million or $120-Million per Year as per case of the CEO of United Health Care.
15- In 2009 the average SOE boss earned $88,000 and the highest-paid, the chairman of China Mobile, $182,000. High pay in SOEs has been a big source of disharmony. Contrast this to US where the top exec of corporations can make $10-Million to $100-Million & More, and then these same bastards turn around and say that "47% of Americans do not pay Taxes.. that 1% at top pays 90% of the Taxes..." which problems THEY HAVE CREATED due to the top brass of US companies having a pay scale that is 400 times of avg employee pay, while again in China the top brass of the SOE are paid 4 to 5 times of the avg employee pay.
16- The Chinese Communist Party's Organisation Department appoints all the senior figures in China Inc. In 2004 it reshuffled the heads of the three biggest telecoms companies. In 2009 it rotated the bosses of the three biggest airlines. In 2010 it did the same to the chiefs of the three biggest oil companies, each of which is a Fortune 500 company. Even the most successful top executives of China's SOEs are cadres first and company men second. They care more about pleasing their party bosses than about the global market.
17) SASAC typically owns 100% of the shares in the holding company. The holding company in turn owns a smaller proportion of shares—say 60%—in the foreign division. This makes it possible for business groups to present lots of different faces—for instance, an inward-looking one in the form of the holding company and an outward-looking one in the form of the international division. It also allows the party state to exercise control of an entire chain of companies. Thus PetroChina might look like a regular Western company, with a listing on the New York Stock Exchange. But in fact it is the international division of a huge group called China National Petroleum Corporation, the foreign head of a dragon whose body and raison d'être lie in Beijing.
Instant proof of Republican Con Job on US: "Socialism Socialist"
So the above facts are absolute proof of Con Job that Republican lunatics and FRAUD Obama Democrats been playing on US, and to carry this Con Job they have been saying one Lunatic lie and non-sense after another. And of course as the final Con Job Republicans and right-wing Media continuously say "Socialism Socialist" whenever one suggests having the same Socialized services that Chinese have as a result of which China has 9% growth and much lower unemployment than US.
So in summary to see the Con Job that Republicans, that is Wall Street owned right-wing Media been playing on US, is to consider the fact that they LOVE "Socialism Socialist", to be exact they fully know that having sensible Socialized services such as Government run Universal Socialized health care, are essential to well being and success of a Nation, as per following FACTS:
1- Republicans (aka Wall Street) have moved 10s of Millions of Jobs to China that is actually the ULTIMATE Socialist Country since China is a Communist Capitalist country with Chinese Government NOT just running health care, etc. as Europeans do, on Socialized basis, but in China most Top banks, Top Energy companies, etc. are run by Chinese Government on Socialized basis. In fact 72% of Chinese companies are either totally, or via shares, run by Chinese Government.
2- Republicans LOVE Israel which after China is one of the most Socialist countries given the FACT that Israel has 100% Government run Socialized Health care, near total Socialized college education, etc.
3- Republicans LOVE the Military, Police, etc. which are 100% Socialized services
But the bastard have opposed the same Socialized services for American People, and they did even worse by moving 10s of Millions of Jobs to China which has all these Socialized services and much more Socialized services since it is a Communist/Capitalist country.
If the above facts are not a mountain of proof that US is under attack by a TRUE parasitic ENEMY within what is?
---
China's communist party to hold 18th Congress later this year
---
(1) IT IS EASY for a casual visitor to China to be fooled into thinking that he is in a normal capitalist country.
http://www.economist.com/node/21542924
(2) China Universal Nationalized Health Care
http://en.wikipedia.org/wiki/Healthcare_reform_in_the_People's_Republic_of_China
(3) China has developed 10,000 K of High-speed rail in last 10 years
http://en.wikipedia.org/wiki/High-speed_rail_in_China
(4) Economists see US decline, China's ascension
http://www.ebeijing.gov.cn/BeijingInformation/BeijingNewsUpdate/t1148886.htm
(5) China Leading Global Race to Make Clean Energy
http://www.nytimes.com/2010/01/31/business/energy-environment/31renew.html
(6) iaozhou Bay Bridge, World's Longest Cross-Sea Bridge, Opens In China
http://www.mirror.co.uk/news/top-stories/2011/06/30/china-opens-world-s-longest-cross-sea-bridge-115875-23237275/
(7) luxury Hotel in China: an underground luxury hotel - another example of how Middle Class in China is doing GREAT, compared to USA
http://www.smartplanet.com/blog/smart-takes/in-china-an-underground-luxury-hotel/25177
(8) Chinese President Xi Jinping touts successes of 'socialism' at Communist Party Congress
https://www.cnbc.com/2017/10/17/chinese-president-xi-jinping-speaks-at-communist-party-congress.html
(9) China's Qudian is about to go public and it could be the largest Chinese listing in the US this year
https://www.cnbc.com/2017/10/18/chinese-fintech-company-qudian-is-set-to-ipo-on-the-nyse.html